Viola Rental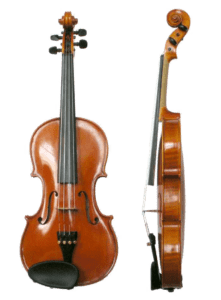 Premium strings

Horsehair bow wooden or fiberglass

Professionally adjusted bridges

Maple back and side

Spruce top

Ebony or boxwood fittings

Ebony fingerboard

Composite fine tuners for easy tuning

Cleaned and polished
---
If you are not sure about the size of the viola select "I want to choose the size later". We will measure the size for you when you come to the shop to pick up the viola.
What size viola do I need?
The string instrument measuring methods below are not 100% accurate but will help determine the size when you rent online. We can help you choose the right size if you visit us with the student who will play but our opinion may be different  from the teacher's. For this reason size change is always free while a customer is renting from us.
Viola Sizing By Arm Measurement
( Measure from the base of neck to the middle of the left hand palm )
27 1/4″ and Up – 16.5″ Viola
26 1/2″ – 16″ Viola
25 1/2″ – 15.5″ Viola
25″ – 15″ Viola
23 1/4″ – 14″ Viola
22″ – 13″ Viola
20 1/4″ – 12″ Viola
18 1/4″ and Under – 11″ Viola
Viola sizes are defined by measuring the reverse side length from the side of the button to the center line at the base. Violas of between 16 and 16½ inches (40.6 to 42cm) are classed as large-sized and suitable for most adults. Our viola sizes are available in the standard and most commonly played sizes.